Each year more than 30,000 visitors from all
50 U.S. states and about 20 countries make their own
pilgrimage to the Laura Ingalls Wilder Historic Home
and Museum. Start planning your visit to begin your
special connection with Rocky Ridge Farm.
The Missouri Ozarks Region!
Thousands of admirers of Laura Ingalls Wilder and her Little House books have visited the historic Rocky Ridge Farm site each year since 1957. Today, the Missouri Ozark Region is a thriving vacation destination not only for fans of Laura, but for those seeking Midwestern Americana experiences. Branson, Missouri alone attracts 7 million visitors each year – 2 million more than the Grand Canyon. So start planning your visit today and begin your special connection with the historic Rocky Ridge Farm. The map below shows how close the Laura Ingalls Wilder Historical Home and Museum is to all the action. You can also click on the map to access an interactive Google map.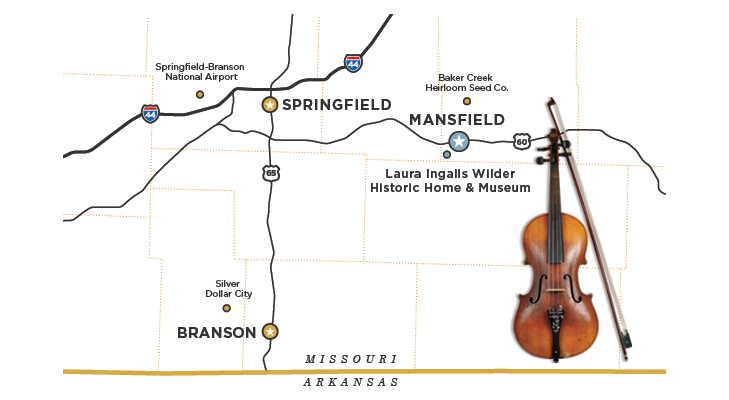 Visit Us!
Rocky Ridge Farm is only 45 miles east of Springfield, Missouri on highway 60. From Springfield take Highway 60 east to Mansfield and take the second Mansfield exit. Turn right off of the exit ramp and continue on that street into town. It dead-ends at the city square. Turn left at the square and continue for less than a mile to the historic home. Our new museum and parking lot is on the right, just after the little bridge. (Stop here for tickets) The farm house is next, just up the hill on the right. Additional parking is on the left. (Click Here for Online Map)
Address
Laura Ingalls Wilder
Historic Home & Museum
3060 Highway A
Mansfield, Missouri 65704
Toll Free: (877) 924.7126
Hours of Operation
March 1 – November 15:
Monday thru Saturday 9:00AM to 5:00PM
Sunday 12:30PM to 5:00PM
(Closed Easter Sunday)
(Open One Weekend in December for "Christmas at Laura's")
Admission
Children 5 and Under:  FREE
Children 6 to 17:             $7.00
Adults 18 & Over:           $14.00
Open House Style Touring Can Be Expected With Large Visitor Numbers
What's Here
Historic Town Square in Mansfield (Bust of Laura)
Mansfield Historical Society & Museum (Laura display)
Mansfield Cemetery (Wilders burial site)
Trip Advisor site for Mansfield, Missouri
Mansfield, Missouri Chamber of Commerce
Springfield Convention & Visitors Bureau – Springfield, Missouri
Branson Chamber of Commerce
Other Little House Links
Become a member of the Wilder Home Association
Laura Ingalls Wilder Museum, Walnut Grove, Minnesota
Laura Ingalls Wilder Memorial Society, De Smet, South Dakota
Almanzo & Laura Ingalls Wilder Association
Author, biographer, and leading Wilder historian William Anderson